Here at PMD we LOVE Halloween! But who has a.) the money or b.) the time to put together an amazing costume before the 31st.. Not us anyway! That's why we present to you our top 10 lazy costume ideas!
10. 50 Shades of Grey
Counting down from number 10 we have a very obvious one, it was done to death last year and I'm sure you will see it again this year… 50 shades of grey!
No we don't mean sticking on a suit and pretending your fancy, rich and have a sneaky dungeon downstairs, all you have to do is pop into your local hardware shop, grab a good fistful of the grey paint sample strips, stick em' to your body (we recommend you wear clothes, remember it is october) and Voiala! Christian Gray…ish.
9. The Sims
This takes slightly more effort than the costume above, but I'd still class it as lazy! Basically, make a green diamond out of cardboard and paint (cue the art attack tutorial..Don't forget to ask an adult when you're using a scissors!), place it to a stick connected to a hair band, talk some 'simlish" and hey presto… you're a sim! Ok maybe it might be slightly harder than I have explained but meh, you get the idea!
8. Mean Girls
Ok, so basically everyone loves mean girls right? Even the guys in secret! "You go glenn coco!" one of the most quoted films ever! Who could forget Kadies attempt to sabotage Regina George's tank top, only for her to turn it into a fashion trend! I mean, this has to be the easiest costume ever! White tank top from Penney's €3, stick a few holes in the boobs and walk like you own the place! just to add… to anyone who hasn't seen Mean Girls… Go watch it… Please.
7. An animal of some kind..
Yes, I agree, there can be some AMA-ZING animal costumes.. but those people are just incredibly talented or incredibly rich and we all can't be these things..
My advice, pound shop.. Grab a set of ears; Bunny, Mouse, Cat, Pig etc. same colour clothes as the animal skin, if you want to, girl your face an awl paint or if you can get a mask (how do people wear those things, so uncomfortable!). Simples!
ps. Sorry for the another Mean Girls meme.
6. Celebrity mask
Ok, you know my feelings on mask from the comments above, but putting on a Kanye mask and walking around interrupting groups of people who are talking by saying "Yo I'ma let ya'll finish, but Beyonce had the best album of all time…" is always funny in my book! Maybe go as Kim
and Kanye and use her crying face as a mask… that's definitely scarey..
5. A smart arse..ehem.. I mean, Something Ironic..
Nuff said…
(ah in fairness it's always funny)
4. Operation man
Very similar to the 50 Shades idea when it comes to simplicity! Cut outs of the holes in the board game … don't really need to explain it do I! See your man in the picture!
3. Fork in the Road
Again, fairly similar to one the entries above but still funny and inventive! Masking tape, black T and fort around your neck… BOOM! Fork in the road! Have fun explaining it though..
2. For the proper extremely lazy people…
If you really feel like being lazy, all you want to do is just go out and drink, rather than get involved in the festive fun, just be a homicidal maniac… not literally though please!
and finally…
1. Shove a bin bag on you…
Your mammy did it when you were smaller no doubt, so you will get brownie points for nostalgia, it's cheap, plus you will keep dry if it rains… only thing is, you might look like a bag of rubbish.. just say you're a witch who lost her hat! Although, If you're crafty, you might be able to make your costume look like this… Is that cheating though? lol
Anyway, hope you enjoyed this blog post, and most importantly enjoy your halloween! No doubt Jenna Marbles will be proven correct on the night with her wise words of wisdom…
HAPPY HALLOWEEN FROM PMD!
Hope you all have a great night! 😉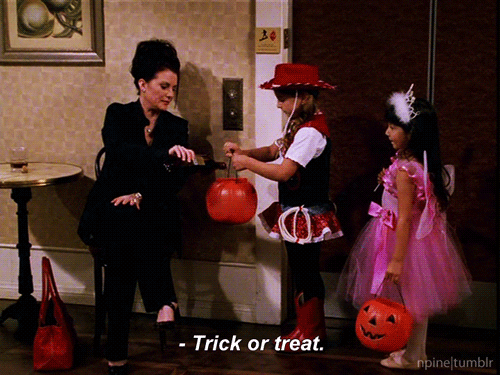 Ps. Don't forget to look out for competitions on our Facebook page coming soon!!